---
What is LA Express Park™?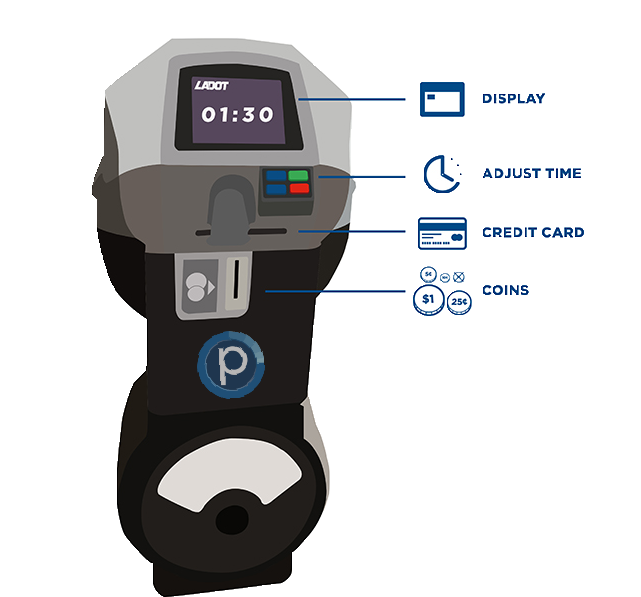 A program that fuses technology and demand-based pricing into an innovative parking management strategy. LA Express Park™ launched on May 21, 2012 as a pilot in Downtown Los Angeles. Since then the program expanded to Westwood in 2015, Hollywood in 2018, and Venice in 2019.
Created as one component of the Los Angeles Congestion Reduction Demonstration with $15 million in grants from the U.S. Department of Transportation and $3.5 million in city funds, the program uses technology to help the city realize its goals of increasing the availability of limited parking spaces, reducing traffic congestion and air pollution, and encouraging use of alternative modes of transportation.
Program Areas
Program Goals
LA Express Park™ was created to make traveling and parking easier by making more parking available in the area and by giving drivers several ways to find where parking is available.
Program Features
The LA Express Park™ program incorporates several elements as key components: new parking meter technology; parking space vehicle sensors; a real-time parking guidance system; an integrated parking management system; and the LADOT Parking Management Center.
The Use of Demand-Based Pricing
Demand-based pricing is a concept used to better match the availability of parking spaces to the demand for those spaces. When demand for parking is low, rates are low. When demand is high, rates increase. The concept helps motorists decide when to make trips and whether to use alternative modes of transportation based on where there is available parking and how much it will cost.
The ultimate goal of this innovative project is to make driving and parking in Los Angeles easier.
Save time, park smarter.
---
---
Benefits of LA Express Park™
Save Time

Finding parking near your destination is faster and more convenient using the parking guidance system
Features include:
Changeable message signs
Cruising for a parking spot is reduced
Reduced cruising = reduced traffic congestion
Reduced traffic congestion =

Reduced emissions +
Improved travel times for other modes particularly transit
Demand-based pricing increases parking availability:
Adds one or two spaces per block
Reduces driver frustration
Better utilization of underused garage parking
Park Smarter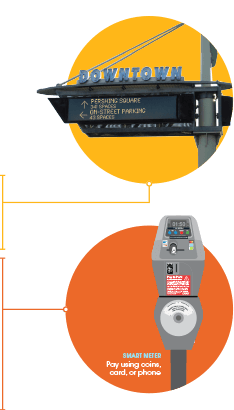 Real-time parking information available:
LA Express Park website
Go511
Dynamic message signs
Paying for parking is easier with options:
LA Express Park will result in more effective use of the on-street parking supply and improved economic activity from more open spaces.
For information regarding parking citations, parking permits, adjudication, and more: visit ladotparking.org
---